Community Conversations
See how AIandYou is engaging in conversations across the country about AI and how it is effecting marginalized communities below:
Digital Inclusion Summit 2023 | HTTP Digital Form - AI and Marginalized Communities
This special edition of our digital forum explores the topic of artificial intelligence. AI has been and is increasingly prevalent in our everyday lives. We are joined by amazing experts to talk about how we can shape AI in a way that is meaningful and ethical and also inclusive of our underserved communities. We will discuss how we can utilize this emerging technology in a way that is safe and how we can also ensure AI is equitable in being developed and deployed.
AI and Media: The Impacts, Challenges and Opportunities
Hear from a multidisciplinary panel of experts on the rise of new AI technologies and how they may impact journalists and PR professionals.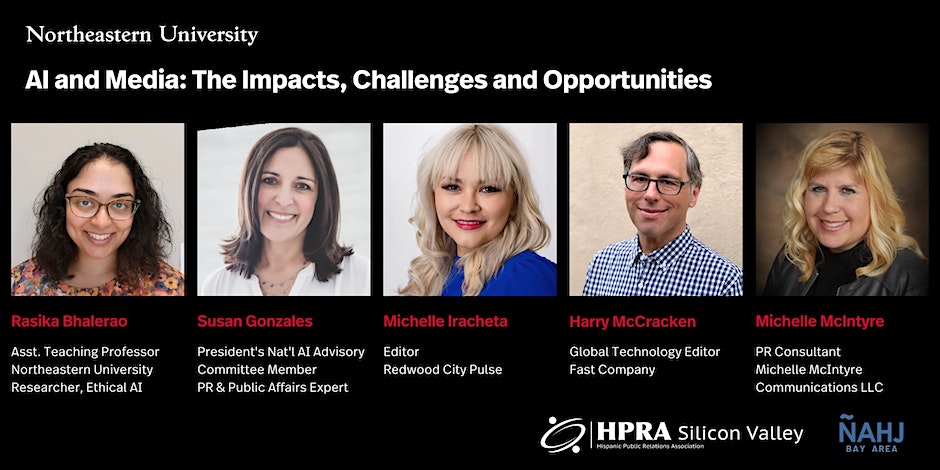 WSAI2021 DISCUSSION Global AI Action Alliance: AI and its impact on marginalized communities
Our Founder and CEO Susan Gonzales speaks with experts in the AI field about the gaps of AI and how it impacts marginalized communities.
AI for the People: Understanding the Impact on BIPOC Communities
Our Founder and CEO Susan Gonzales speaks with Gabriela Ramos, Assistant Director-General of UNESCO, to understand how artificial intelligence is affecting our communities, and how we can challenge bias in AI.
Making AI a Field for Everyone: Obstacles & Opportunities
What are some challenges faced by underrepresented groups when seeking a career in AI? Where should we invest in making AI more inclusive? Facebook invited thought leaders - Rhonda Allen, Susan Gonzales, Dr. Matias Valdenegro Toro, Dr. Sinead Williamson, and Irina Koffman, to share their insights on how we can make a difference.
AIandYou Community Conversations with Eva Longoria and Dr. Brandeis Marshall
Hear about the radical ways in which artificial intelligence is changing our communities, with computer scientist Dr. Brandeis Marshall and philanthropist Eva Longoria.
Algorithms for Good and Ethical Technologies
NeurIPS Town Hall
Hosted at the 2018 Conference on Neural Information Processing Systems, the Diversity and Inclusion Town Hall featured leaders from Queer in AI, Black in AI, LatinX in AI, and Women in Machine Learning.